The KSG (Kel-Tec Shotgun) is Kel-Tec CNC's first entry into the shotgun market. The size, shape, and design is similar to the currently available Kel-Tec RFB rifle, but the KSG ejects downward, instead of forward. The KSG weighs 6.9 lbs and is as compact as legally possible with a 26.1" overall length and an 18.5" cylinder bore barrel. Even with this compact size, the internal dual tube magazines hold an impressive 14 rounds of 12 gauge 2 3/4" rounds in total (7 per tube).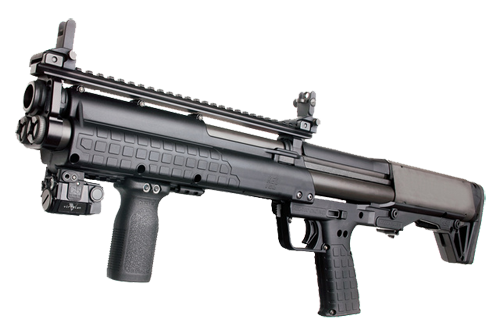 This simple and reliable pump action feeds from either the left or right tube. The feed side is manually selected by a lever located behind the trigger guard.
The pump includes an under picatinny rail for the mounting of a forward grip, a light or a laser. The included top picatinny sight rail will accept many types of optics or iron sights. Forward and rear sling loops are built in, and a basic sling is included. The soft rubber butt pad helps to tame recoil.
The KSG receiver is made from hardened steel and includes the magazine tubes which have been welded in place. The grip and stock assembly is made of glass reinforced nylon (Zytel) and is easily disassembled by pushing out 2 pins, which store in 2 holes in the grip when removed. The barrel and pump assembly is moved by loosening the 2 front magazine tube nuts with a coin and sliding the assembly forward.
TECHNICAL SPECIFICATIONS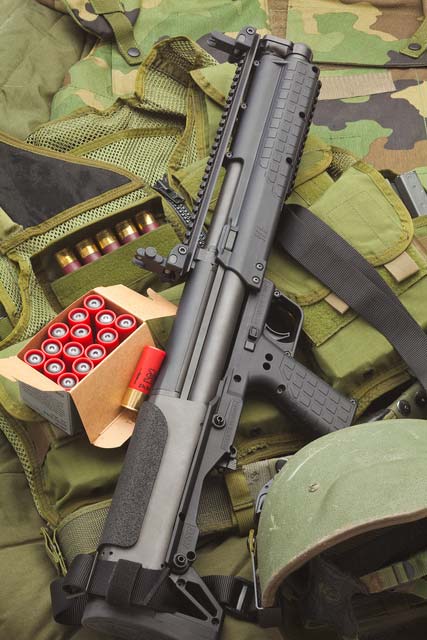 Gauge: 12; 2-3/4"
Barrel length: 18.5"
Total capacity: 7+7+1
Weight empty: 6.9lbs
Weight loaded: 8.5 lbs
Length: 26.1"
Height: 9"