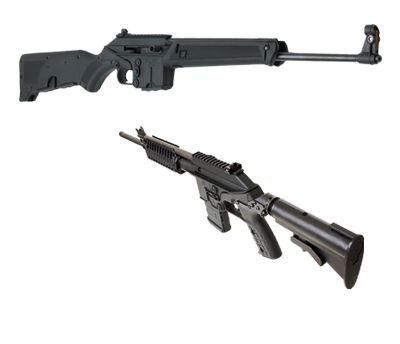 The SU-16F is the Canadian version of the SU-16A2 and is a gas operated, semi-auto loading rifle chambered in .223 Rem caliber. It is intended to be the perfect everyman's sport and utility rifle. The rifling is 1 turn in 9 inches, right hand twist. Several unique features make the SU-16F a versatile sporting firearm, including:
Chrome lined bore and chamber now standard
An integrated Picatinny rail for mounting different sight systems.
The stock can store spare magazines. Two 5 round magazines.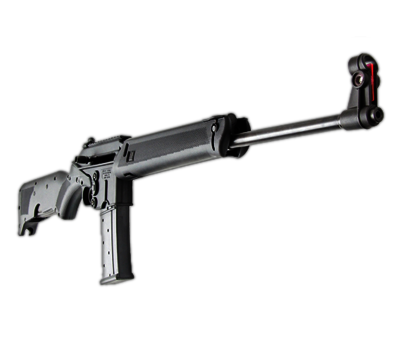 The SU-16F has a conventional, long-stroke gas-piston operation and utilizes the proven Johnson/Stoner breech locking system. It is compatible with standard AR-15/M-16 magazines. The reciprocating bolt handle and magazine catch are on the right side, while the push bolt safety can be changed to work from either side. Except for barrel and operating components, the SU-16F is made entirely of high impact reinforced polymer.
TECHNICAL SPECIFICATIONS
Calibers: .223 Rem

 

Weight unloaded: 5.0lbs./2.3kg
Length Open: 37.4"/950.0mm
Length Closed: 26.4"/670.6mm
Barrel length: 18.5"/470.1mm *
Magazine Capacity: 5 rounds
Barrel Diameter: 3/4" to 5/8"/19.1mm to 15.9mm
Twist: 1:9"/1:228.6mm
Bolt Travel: 4.1"/104mm
Trigger Pull: 5lbs to 7lbs/22.2N to 31.1N
Barrel Weight: 26.1oz/738.8g